Versatile Features
All the functionality you need to create fast & accurate earthworks estimates.
Of all the software I use, this is perhaps the most powerful. The product is continually being improved and as a user you have a sense that the developers at Kubla really want to implement your ideas.
We offer two versions of Kubla Cubed. Lite is the free version, whereas Professional is a paid version. A summary of the features in each version of the software is given below.
General Software Features

LITE

PRO

Site Plans

Import multiple PDF, JPG, BMP documents. crop, stitch and scale. Learn more

✔
✔

Existing

Manual Take-off, CAD Import, Point Cloud Import. Learn more

✔
✔

3D Views

View existing and proposed in 3D using and orbit and fly over camera. Learn more

✔
✔

Phased Projects

Separate projects into separate phases to represent time, materials or anything else. Learn more

✖

✔

Export

Estimation Summary & Images CAD Data. Contour Lines, Shaded TIN Surfaces, Definition Data. Learn more

✖

✔

Earthwork Elements

LITE
PRO

Proposed Strip/Spread Design

Topsoil Strip, Paving, Respread etc… Learn more

✔

✔

Proposed Level Area Design

Platform Element allows you to easily define areas of level grade. Learn more

✔

✔

Sloping Area Design

Slope Element allows you to define an area with a sloping grade. Learn more

✖
✔

Proposed Trenching/Road Design

Path Element allows you to quickly define features with a centreline. Learn more

✖
✔

Proposed Surface Design

Contour Lines, Points, break-lines. Manual Take-off, CAD Import, Point Cloud Import. Learn more

✖
✔

Proposed Surface From File

Polyface mesh, TIN (*.dwg, *.xml, *.kubla) Learn more

✖
✔

Measurement Elements

LITE
PRO

Counts, Lengths & Areas

Count Items, Measure Lengths, Distances, Paths, Areas and Perimeters… Learn more

✔

✔

Volume Region

Query the Cut/fill within a specific region Learn more

✖
✔

Cross Section

Visualise a 2D slice through the terrain Learn more

✖
✔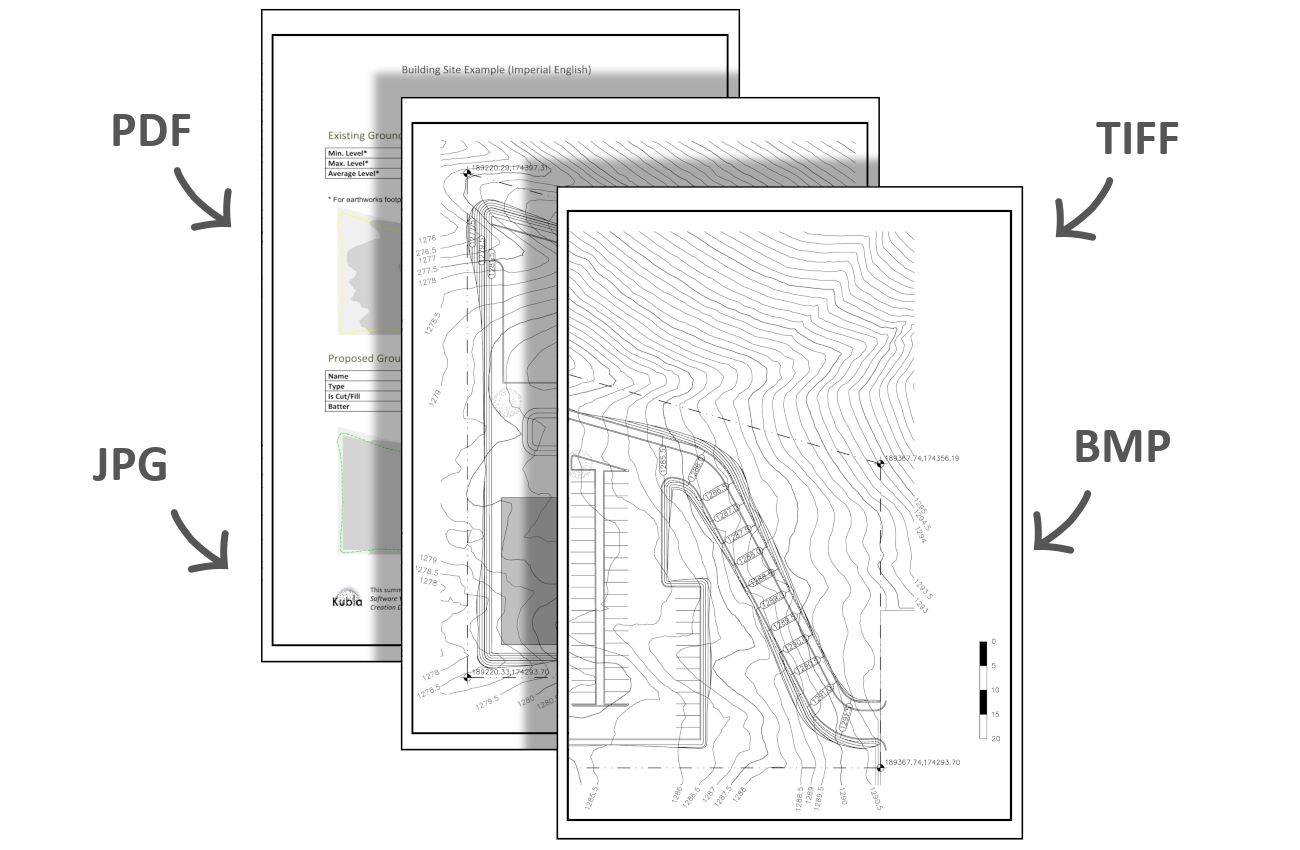 The first step of an earthworks estimation project can often be to load in site plans into your project for take-off or reference. You can load site plans file into your project in a number of different file formats (.pdf, .jpg, .bmp, .tiff). You can import as many site plans as you need, switching them on and off when you need to view them.
Being able to display multiple site plans makes it much easier to complete a takeoff if you have your existing and proposed elevation data on two seperate drawings. You can also use the crop, move, and align tools to 'stitch' drawings together in situations where a single site plan is spread across seperate pages of a document.
Defining Existing Ground Levels
A crucial stage in the process of earthworks estimation is to define the existing ground levels at your project site. 
Kubla Cubed
 has many features to make this as quick and easy as possible.
You can define ground levels from contour lines, break lines, or points, or from any combination of these. Every feature can either be drawn on the screen, or loaded from a CAD file or a point file.
You can also import ground levels directly from LandXml or CAD, if the ground level surfaces have already been generated in another software product.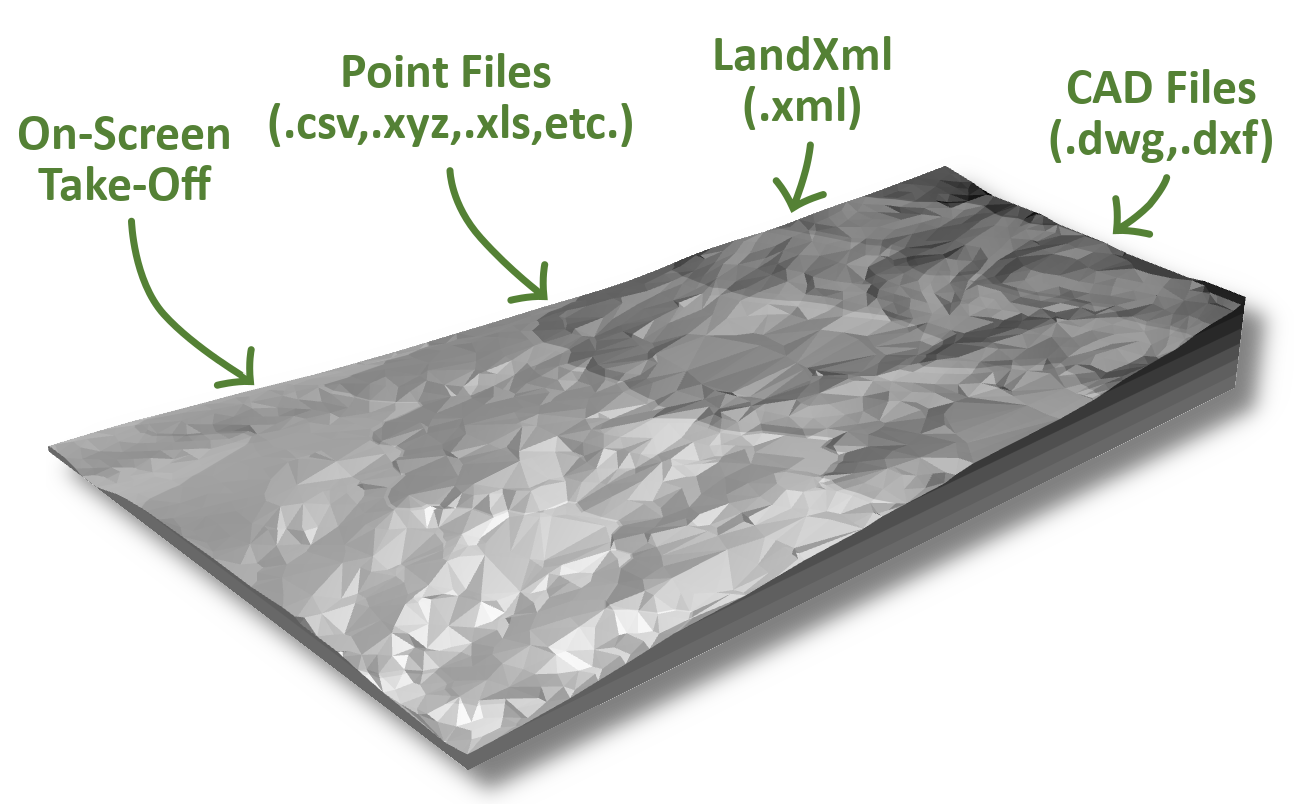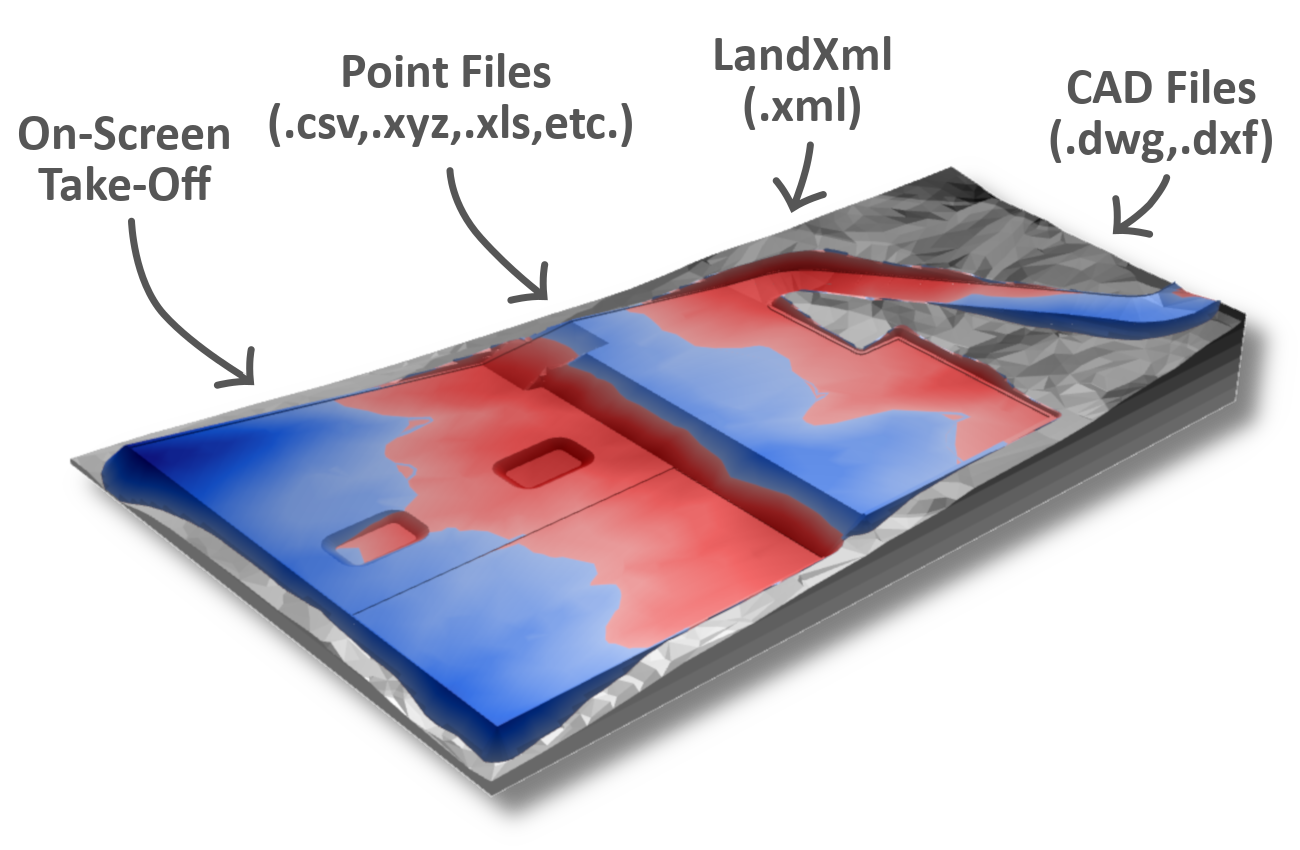 Defining Proposed Earthworks Levels
Proposed ground levels can be seperated into different phases and defined using a number of different earthwork elements. Simple works like building foundations can be defined with overlay, platform and slope elements.
For more complex take-off jobs a surface element can be used which is defined like the existing terrain using points, break lines, contour lines and outlines.
Exporting Earthworks Estimates
When you need to share data with colleagues or clients Kubla Cubed has powerful export options enabling you to produce impressive reports and comprehensive CAD data.
You can export your project to popular image formats like .jpg and .png.  Design data can exported to a .dwg, .dxf or LandXml file which can be opened in other CAD programs.
Comprehensive estimation summaries and user input reports can be exported to a Microsoft Word or Excel file, as well as directly to PDF.   These reports are invaluable in presenting results to other project participants.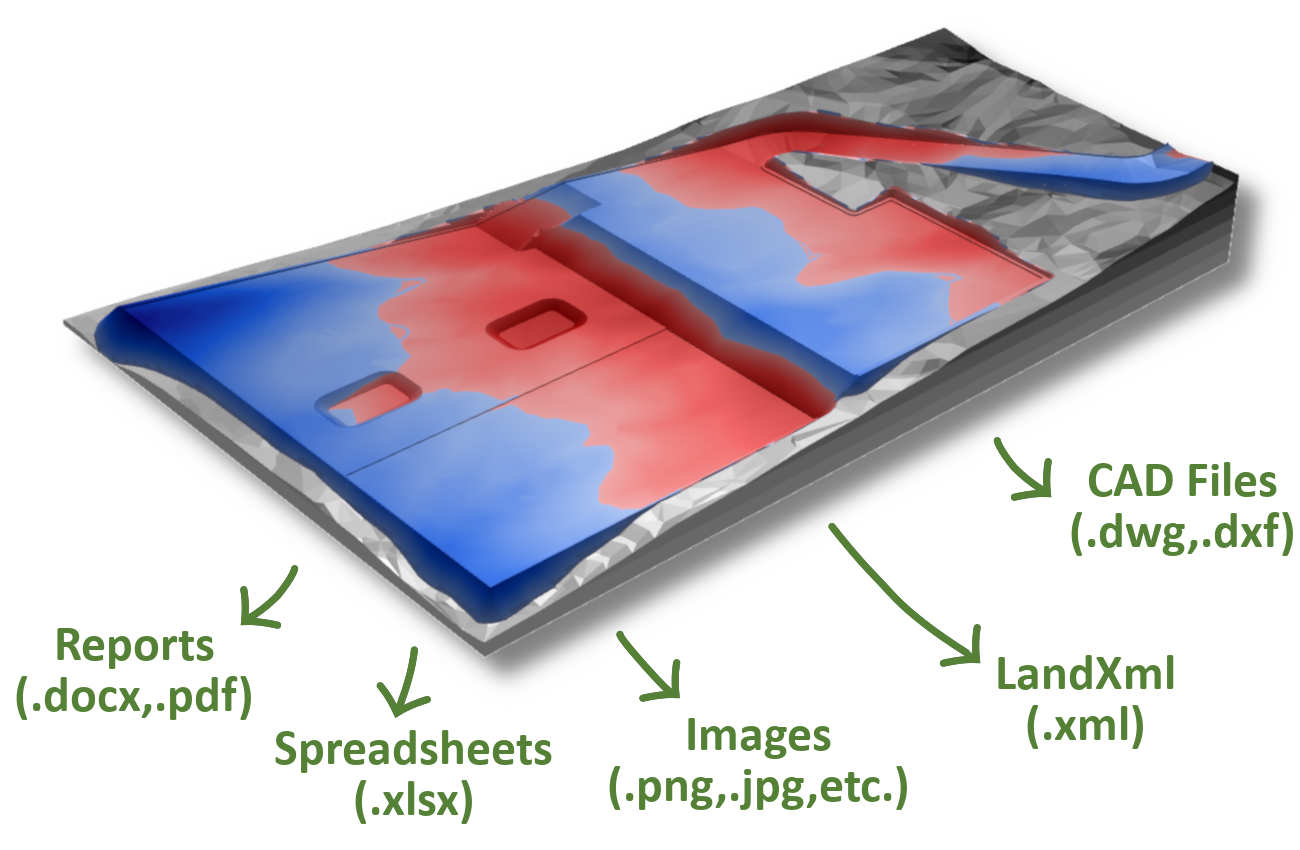 Their customer service is as impressive as the program itself. 
Whether you are using the most expensive program on the market or still doing project take-offs with a digitizer and paper, I suggest giving these guys a try. I can guarantee they will be the next big name in earthwork take-offs if they continue the way they are going.