Versatile Features
All the functionality you need to create fast & accurate earthworks estimates
Of all the software I use, this is perhaps the most powerful. The product is continually being improved and as a user you have a sense that the developers at Kubla really want to implement your ideas.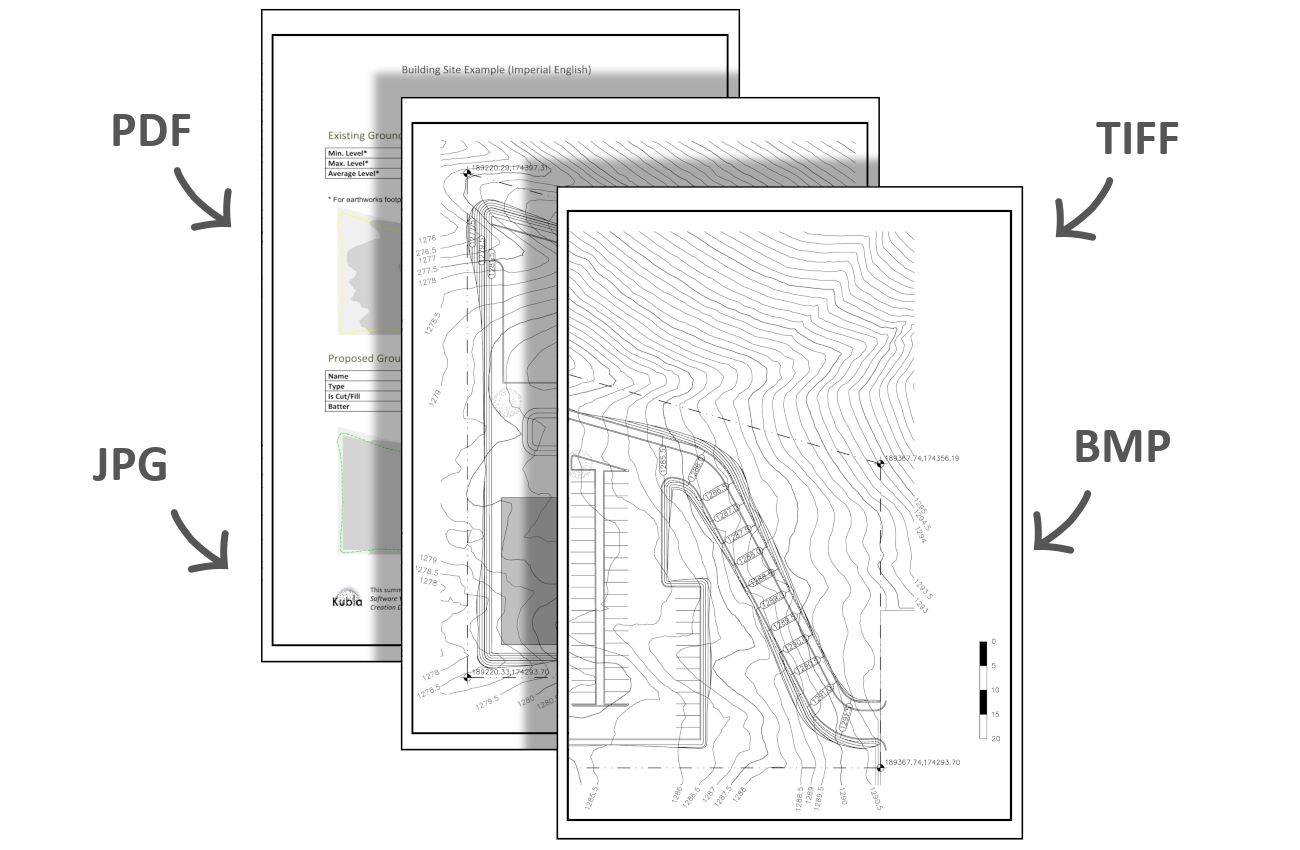 The first step of an earthworks estimation project can often be to load in site plans into your project for take-off or reference. You can load site plans file into your project in a number of different file formats (.pdf, .jpg, .bmp, .tiff). You can import as many site plans as you need, switching them on and off when you need to view them.
Being able to display multiple site plans makes it much easier to complete a takeoff if you have your existing and proposed elevation data on two seperate drawings. You can also use the crop, move, and align tools to 'stitch' drawings together in situations where a single site plan is spread across seperate pages of a document.
Defining Existing Ground Levels
A crucial stage in the process of earthworks estimation is to define the existing ground levels at your project site. 
Kubla Cubed
 has many features to make this as quick and easy as possible.
You can define ground levels from contour lines, break lines, or points, or from any combination of these. Every feature can either be drawn on the screen, or loaded from a CAD file or a point file.
You can also import ground levels directly from LandXml or CAD, if the ground level surfaces have already been generated in another software product.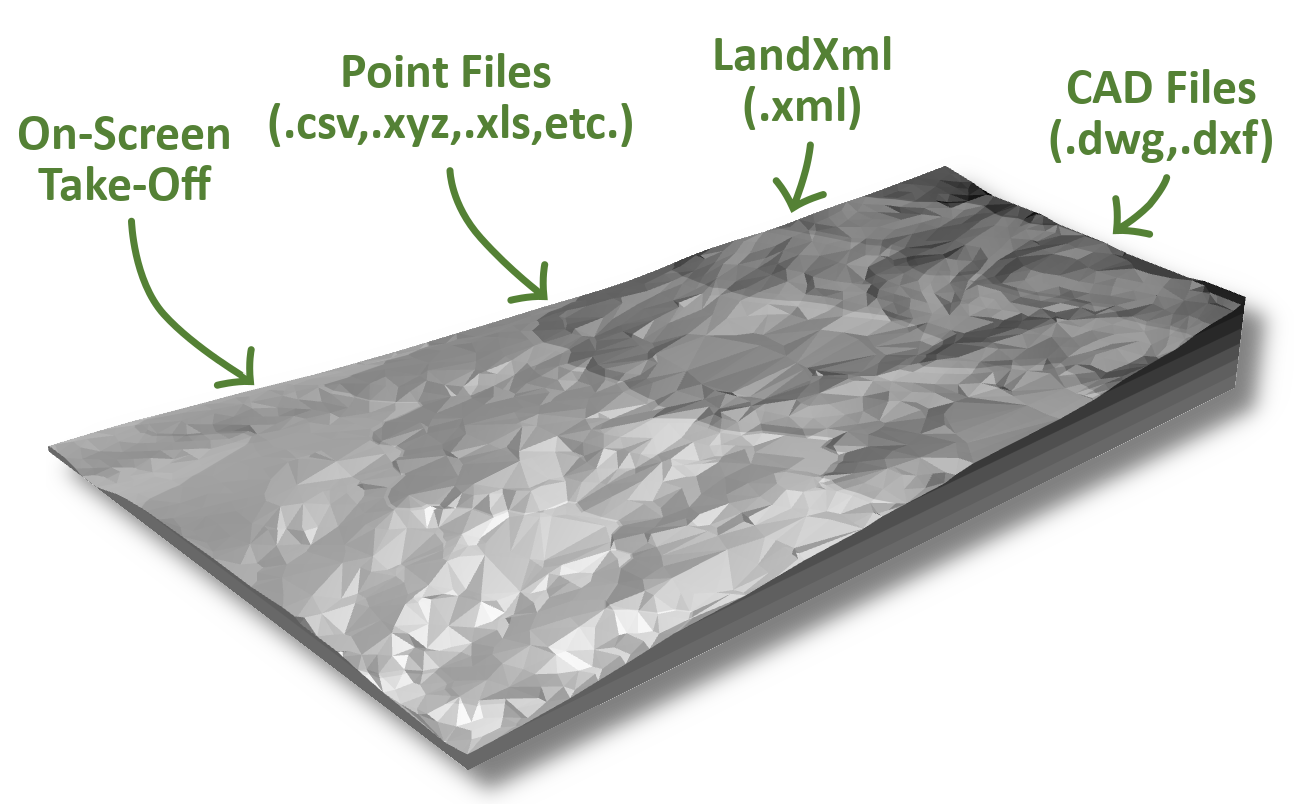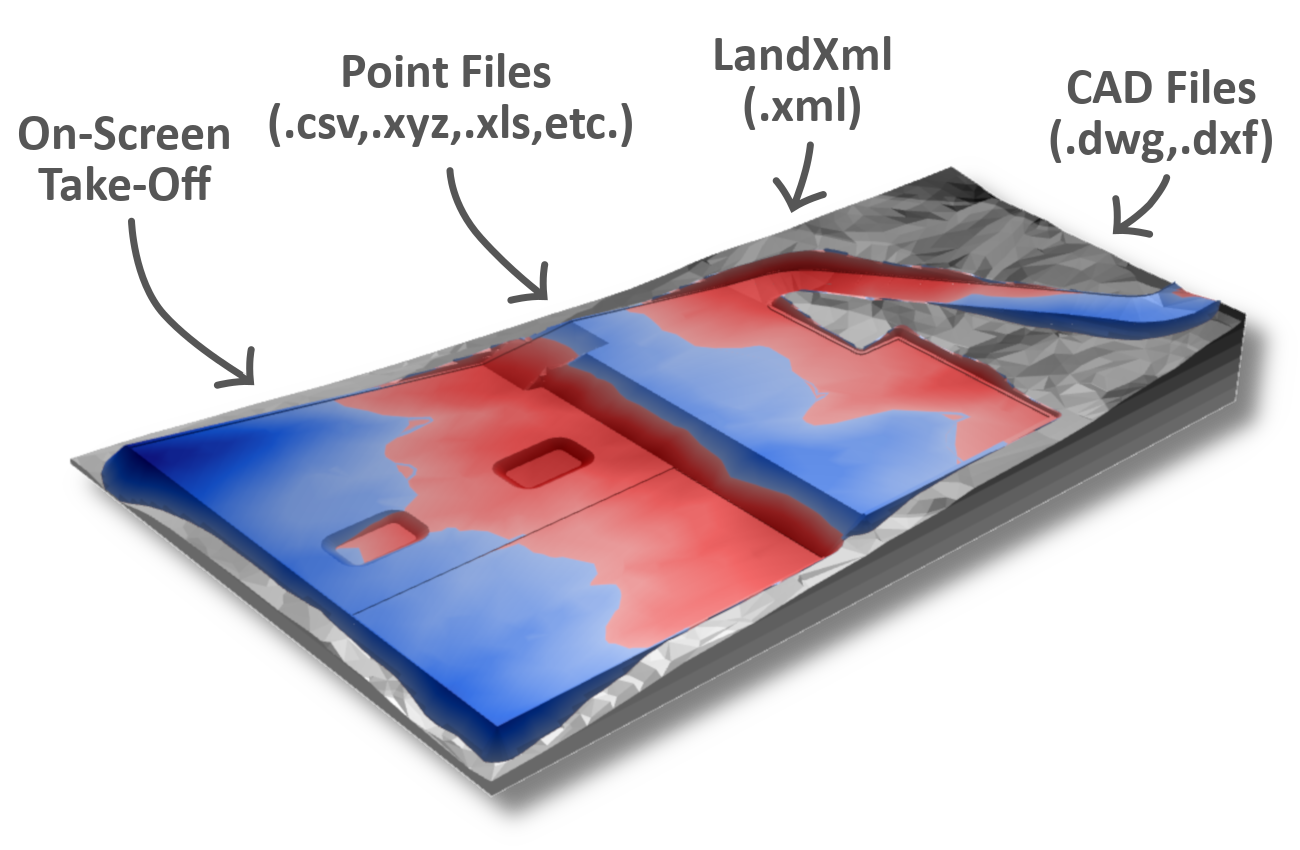 Defining Proposed Earthworks Levels
Proposed ground levels can be seperated into different phases and defined using a number of different earthwork elements. Simple works like building foundations can be defined with overlay, platform and slope elements.
For more complex take-off jobs a surface element can be used which is defined like the existing terrain using points, break lines, contour lines and outlines.
Exporting Earthworks Estimates
When you need to share data with colleagues or clients Kubla Cubed has powerful export options enabling you to produce impressive reports and comprehensive CAD data.
You can export your project to popular image formats like .jpg and .png.  Design data can exported to a .dwg, .dxf or LandXml file which can be opened in other CAD programs.
Comprehensive estimation summaries and user input reports can be exported to a Microsoft Word or Excel file, as well as directly to PDF.   These reports are invaluable in presenting results to other project participants.