"Join coastal engineering professionals around the world who are using Kubla to design and plan their port infrastructure."
Easy to Use
Kubla Ports has been designed from the ground up to be easy to use.
The user-friendly interface allows you to define your design criteria easily and quickly, while dxf functionality allows you to bring data in from CAD files if required.
Accurate
Kubla Ports uses a cutting-edge Triangulated Irregular Network (TIN) engine which was developed in-house.
The TIN's which are used for calculations are exactly the same as those you see on-screen. You can even export the TIN's to dxf and check your surfaces down to individual triangles.
Powerful Exports
Kubla Ports can export detailed summaries (.doc, .pdf) that you can share with project stakeholders.
You can also export to CAD dxf files in either 2D or 3D, allowing you to work on the project with other software and to create impressive visualisations for presentations.
Great Support
Our specialist support team is ready to take your calls or emails.
We also offer all our customers free online demos to help them to get started using our software.
Only Pay for the Modules You Need!
Designing approach channels, dredging areas and aids to navigation are all no problem.  Kubla Ports has all the modules you need to get the job done.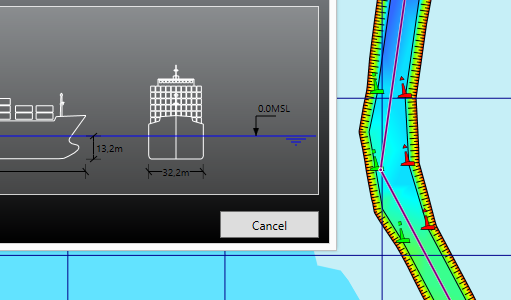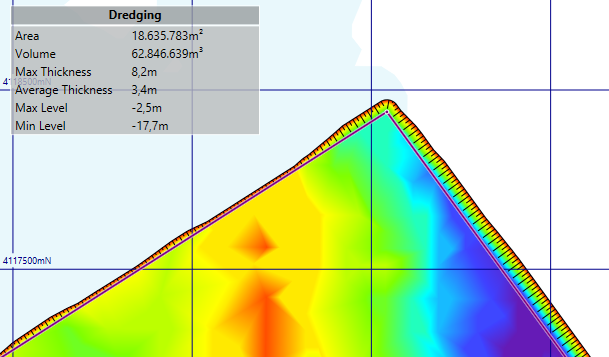 APPROACH CHANNELS
Design approach channel widths and depths based on PIANC guidelines.
Override automatically calculated values if required.
Instant calculation of dredging volumes.
DREDGING
Specify areas of required dredging, as well as dredged levels.
Instant calculation of dredging volumes.
Calculation of volumes in side slopes based on user-defined slope angle.
AIDS TO NAVIGATION
Point-and-click to lay-out aids to navigation.
Automatic presentation of seabed levels at marker locations.
Export to 2D and 3D CAD.