Have you imported a site plan and extracted contour lines and/or break-lines from either a CAD file or vector PDF file?  
Lines import as they are in the original CAD or PDF site plan. This is usually fine and they will be whole lines, but occasionally you may wish to split a line, for example when two lines have been joined in error. 
The Line editing tools (Join, Split, Set Multiple Elevations) assist with the definition of lines within a Feature Surface. They are accessible from within the element editor (left-hand menu) in from the tools
button.
 THE SPLIT TOOL
The Split Tool (new to Kubla Cubed 2021) gives you the functionality to quickly and efficiently cut a contour or break line, generating two new lines.
When a segment is selected within the line to be split, the new lines generated will not include the selection.
When a point is selected within the line to be split, the newly created lines will both have an end point at the split point.  
Image above: Contour line (red) with a point (blue) selected where it will be split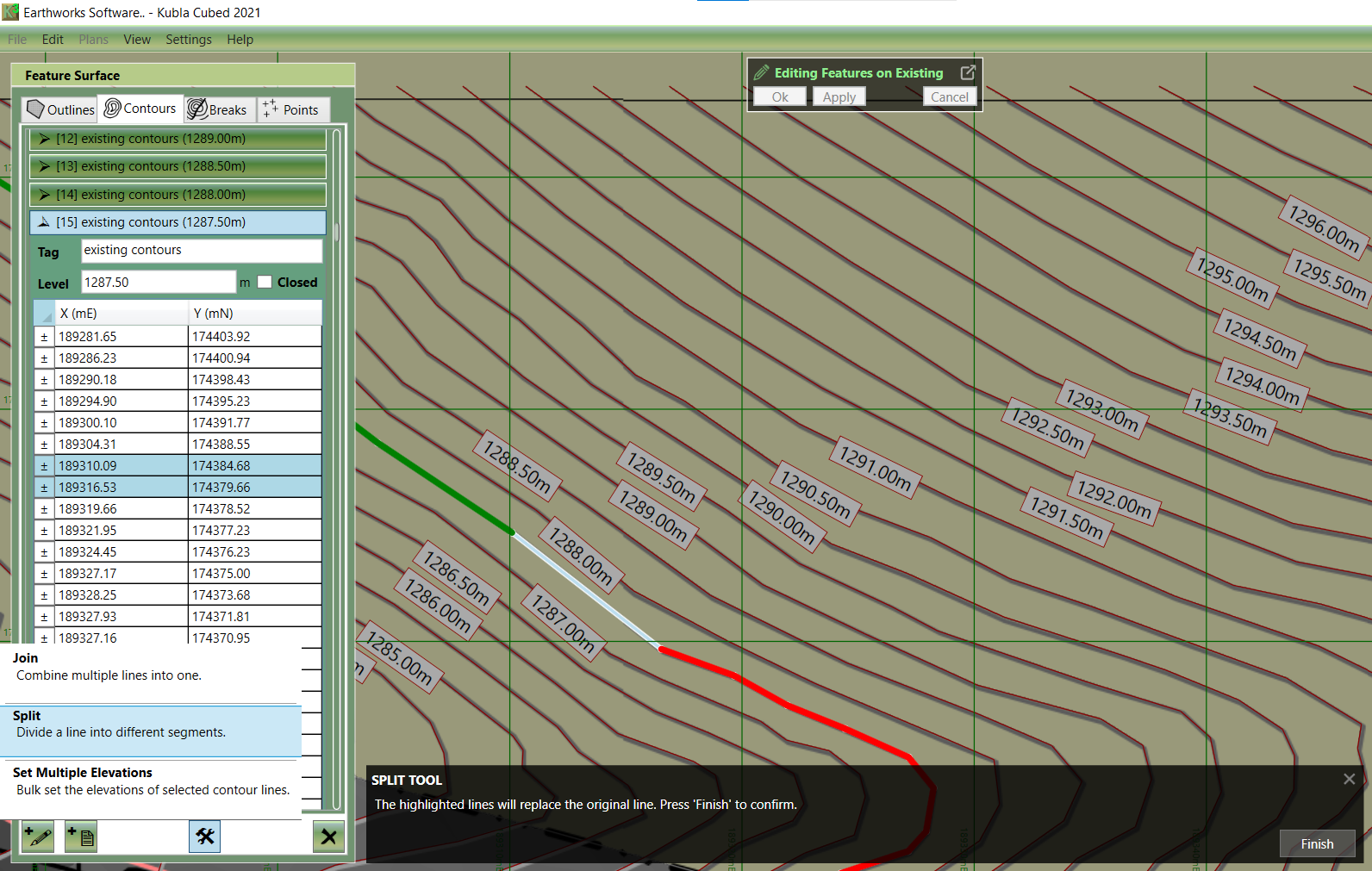 Image above: The preview of the contour line with a segment (blue) selected where it will be split. The green and red lines show the proposed new lines. 
  USING THE SPLIT TOOL
Select the line you wish to be split
Find and click the point or section of the line where the split is required (it will become highlighted) 
Select the Split tool from the menu
Check the preview is indeed what you want (green, grey and red lines)
Press the 'Finish' button when you are ready to proceed
7. Press 'Apply' and 'OK' when you have finished editing
TOP TIPS
Closed lines are not supported. If the line is closed, the split will fail and the validator will show an error message identifying what is incorrect.

This is recoverable once the necessary selection change has been made; there is no need to start again.

If the operation needs to be cancelled, click on the 'X' in the top right of the black strip along the bottom, will cancel the Split operation.