Installation Instructions
1. Download the software...
Free but functionally-limited versions of our software can be found by navigating to our products
For paid versions, click on the link provided to you in the email sent when the product was purchased. If you don't have a download link, please contact support@kublasoftware.com

Examples of download and installation are representative of the download and installation procedures for all our software products
 2. Installing
Start installation – Single/double click (depending on your system) the setup.exe file. Depending on your security settings the following confirmation prompt will appear: Click 'Run' to install the program.
 Terms & Conditions – When the installer starts, the software terms and conditions will be displayed. If you are happy with them check the agreement box. You can select 'Options' to set the installation directory, if you are happy to use the default click the 'Install' button.
Installation duration – Time taken to install depends upon the target machine for example processor speed and other requirements… Kubla software requires the Microsoft .NET framework and if this requires an upgrade, the time taken to install may be longer.
Launch – Upon completion, click on the 'Launch' button to start the program.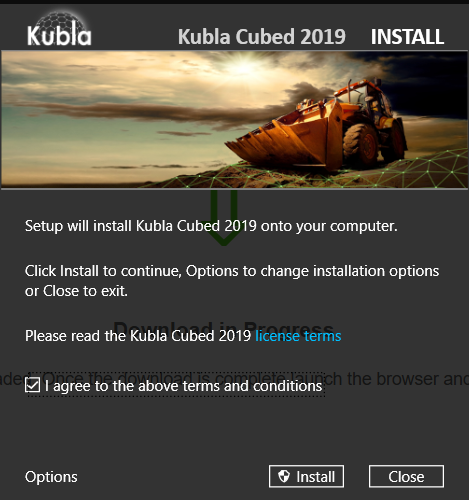 3. Registration / Activation
When the program first launches a license needs to be activated. Activation will happen automatically after entering your activation code if you are connected to the internet. If there is a problem with your internet connection an activation window will appear with your installation ID for that computer.
You will need to enter your activation code. This will be in the email sent by Kubla. It has the format xxxx-xxxx-xxxx-xxxx
You may not see the activation screen if you are reinstalling on the same machine for any reason.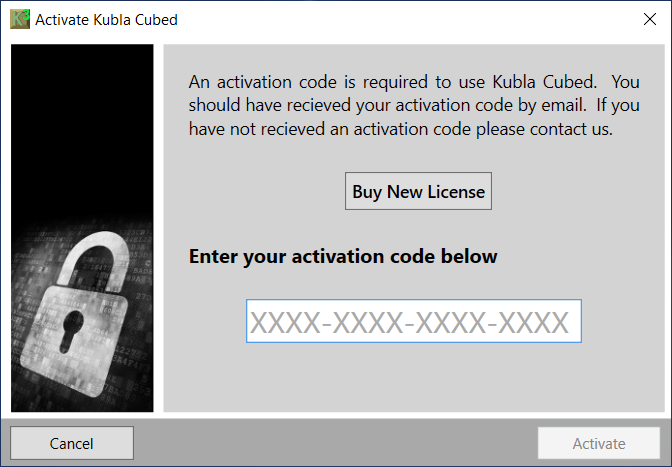 4. Uninstalling
This varies according to your Operating System (OS)
Windows Vista & 7:
Click Start, then Control Panel, click Programs and then Programs and Features.
Windows 8 & 10:
a) Swipe right and Search for 'Control Panel', open the Control Panel and select the Programs and Features icon.
b) After this you will be shown a list of installed programs. Select the entry for and click 'Uninstall' to remove the program.
Alternatively, for Any Windows OS:
You can uninstall directly with the same setup.exe used for 'installing'.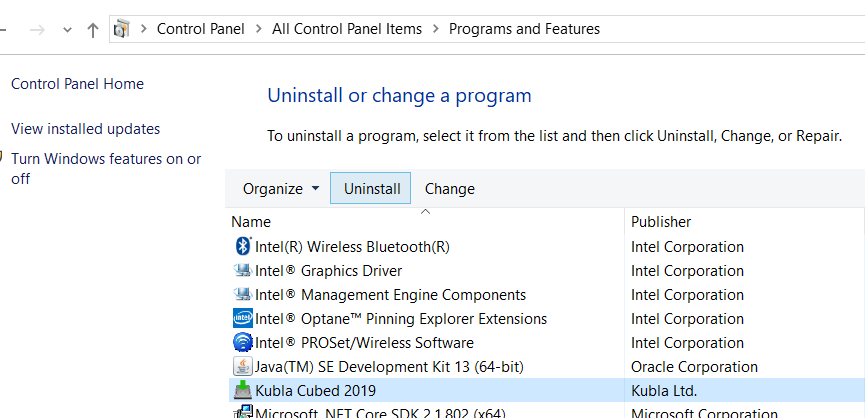 Can I install multiple versions of the software at the same time?
Usually you would be running the latest version, but you can install different releases if you wish. Provided you have enough activations remaining you can run several different versions of the software next to each other on the same machine.
User Account Control (UAC) / Admin login required
You need elevated rights to install the program. Depending on your level of access, you may just be asked to confirm that the installer can make changes to your computer, or the installer might request the details of a system administrator (this is most likely on corporate networks).
Activations have all been used. Contact support@kublasoftware.com...
Licenses are sold on a per user basis, with up to 2 installs per user. If you exceed this limit, you will need additional licenses. If you wish to transfer licences from one computer to another, please contact us at the link provided.
Error code during installation...
Error 0x80070005: Failed to launch elevated child process
Error 0x800700e8: Failed to wait for child to connect to pipe
Some anti-virus software can interfere with the installation process. The solution is to disable the anti-virus during installation. Please remember to re-enable your anti-virus after installation.
I have another question not listed